The Crema Marfil marble is perhaps the most supplied marble stone in the world. It has a large commercial network and distribution systems that reach pretty much all corners of the world. This is also a highly advertised product with a large availability and demand from certain specific markets.
We explain below some of the most important features behind the success of the Crema Marfil, a common worldwide preference for both large-scale projects and private constructions. Moreover, we'll approach some of the core aspects of the markets and finished products for this marble.
Extraction
The Crema Marfil extraction is done on the eastern part of Spain, in several different areas. The traditional areas of extraction are the Zafra and the Coto areas, however in the past few years several other areas of extraction have emerged, where good quality Crema Marfil is also extracted.
There are currently a large number of Crema marfil quarries and these can have a very large dimension. Some of these quarries can be the largest in the world. The blocks extracted can have any dimension, depending on the purpose. As China has been consuming a considerable amount of blocks (and export blocks have a large dimension), it is more common to see very large blocks available at the quarries.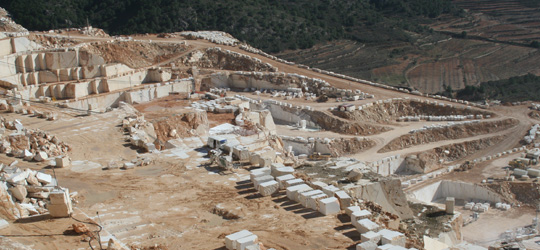 Finished Products
The Crema Marfil is commonly found in the market in different forms, such as blocks, slabs, tiles and diverse finished product. It also depends on the market. In China for example, this stone is mostly available in slabs form, whereas on the UK or USA it is mostly found in the form of tiles.
Markets
The Crema Marfil is one of the few natural stones that is possibly found anywhere in the world. Due to intense marketing/distribution efforts and due to the fact that this stone is a mass scale stone with large availability, it is today one of the most famous and recognized natural stones in the world.
However, some of the most relevant markets for this stone are:
– USA;
– China;
– Europe;
– Middle East.
It is important to see the appearance of some very important emerging markets such as Brazil, Russia or even some Central American countries, where the demand for this marble has been increasing considerably in the past few years.
For further and complete information about the Crema Marfil marble, visit the following website:
www.crema-marfil.net